Nashville Graffiti Removal Service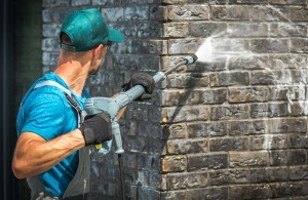 Nashville Clean Windows & Pressure Washing is your local solution for expert graffiti removal. Our pressure washing professionals use state-of-the-art equipment and techniques to effectively remove graffiti from brick, stone, wood, metal, glass, and other materials.
Removing paint from surfaces is a delicate process that must be done without damaging the surface material. If you have an older home or commercial building, too much pressure can destroy the old brick or wood very easily. When we remove these unsightly paint markings, we do it gently no matter the age of the surface.
As your local pressure washing experts, we know you sometimes need a specialized service such as graffiti removal or rust removal. Our pressure washing technicians are more than happy to help you with service.
Graffiti Removal Sharpens Your Commercial Image
Your business image is everything, and nothing damages your image like unwanted graffiti. Unfortunately, there's little you can do except get rid of the graphics when you notice them. While beautiful art murals definitely have a place here in Nashville, there's nothing more frustrating than uninvited murals or tagging of your commercial building.
If your commercial property has been violated by graffiti or tagging, our Nashville pressure washing technicians can easily remove it for you. While graffiti removal isn't an easy task to accomplish, and it takes time, we make sure the surface is safely cleaned and the appearance of your commercial building restored.
Removing Graffiti On Apartments
In addition to commercial buildings, apartments in Nashville are often victims of graffiti. While some messages left on apartments are harmless enough, the process can permanently damage the surface. The best way to deal with the issue is to remove it as soon as possible because this is the easiest time to remove it without damage and is the best way to deter future tagging.
Graffiti Removal For Homes
Whether your Nashville home is sitting vacant or you're home every day, vandalism happens. If your garage door, brick siding, wood fence, front door, windows, concrete, or any other area has been tagged, call us for graffiti removal service as soon as you can to avoid future tagging. You can also report graffiti to local authorities by calling the Graffiti Hotline at Metro Nashville Public Works.
If you are looking for a professional Nashville graffiti removal service, then please call 615-669-8098 or complete our online request form.