Brentwood, TN Pressure Washing Experts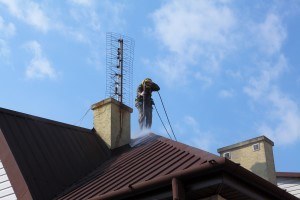 If you own a business, you need to keep your storefront in beautiful condition. After all, an unsightly storefront is likely to deter customers, whereas your goal is to bring in as many as you possibly can.
To get the most customers possible, call Nashville Clean Windows and Pressure Washing. We'll keep your storefront looking as beautiful as can be so it can attract as many customers as possible -- thanks largely to the following two services:
ROOF CLEANING IN BRENTWOOD, TN
One of the first things that customers will notice about your business is its roof. So, if your roof is stained and teeming with algae and other unsightly growths, this first thing your customers are likely to notice might send them elsewhere.
If your roof is dirty and discolored, call us for a roof cleaning. We use a softwashing to ensure that your roof gets as clean as can be without causing any damage. Thus, we'll get your roof as clean and beautiful as you could want it to be while keeping it standing strong!
PRESSURE WASHING IN BRENTWOOD, TN
From your concrete to your building itself, many components that make up your business can become dirty after enough time being exposed to the elements. And in time, this dirtiness can render your business an unsightly mess that only scares customers away!
If these unavoidable messes are losing business for you, call us for a pressure washing. We provide quick yet thorough pressure washing services to ensure that your business looks its best no matter what the elements might have done to it over the years.
BRENTWOOD'S PRESSURE WASHING EXPERTS
Do you like enjoying some outdoor fun? If you do, you'll love Brentwood! With the Concord Park, Deerwood Arboretum, and Maryland Way Park (among many others), Brentwood offers many great ways to enjoy the Great Outdoors.
And if you want your business to look as majestic as the Great Outdoors, call Brentwood's pressure washing company at Nashville Clean Windows and Pressure Washing. We'll get your business looking great with our many quality services!
Recent Projects in Brentwood, TN
Commercial Pressure Washing for Governors Club in Brentwood, TN
Stucco Cleaning - Brentwood Tn - House Washing / Soft Washing
If you are looking for a pressure washing company in the Brentwood area, then please call 615-669-8098 or complete our online request form.