The Best Shooter Tip For Pressure Washing [Review]
As you may know, I've used every shooter tip product the industry has to offer. After 6 years in the pressure washing game currently as this article is being written I have purchased my tail off trying to find the best chemical tip to place our chemicals up high and on substrates. This article is going to go into detail about a new tip on the market developed by Southeast Softwash and why I believe that it's the best in the pressure washing game, currently. All of the thoughts written in this article are my own, through testing and personal experience.
Why choose a long range chemical nozzle?
When you're pressure washing and soft washing homes and businesses you always have a height that you're trying to reach from the ground. When you can shoot your chemical from the ground and hit the heights you need to hit, you don't have to grab the ladder. The ladder is a source of liability and danger, and thus we try to avoid using it as much as possible. That's where a long range chemical nozzle on your pressure washer is needed. It's going to tighten the stream of water coming through your pressure washer allowing you to not only hit the upper level heights needed but also reduce atomization and allow you to still suck chemicals from your downstream injector.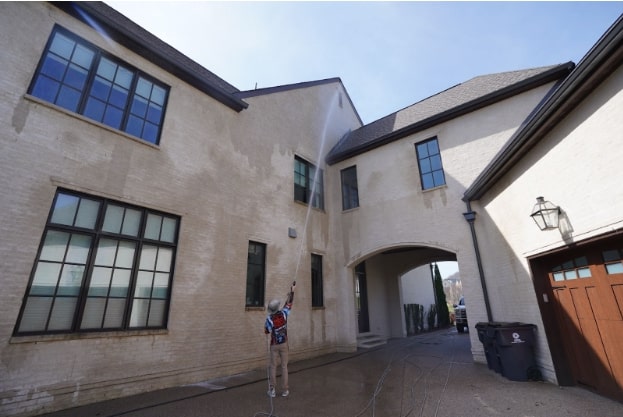 What is the Tall Reach Tip From Southeast Softwash?
The Tall Reach Tip from Southeast Softwash is an early 2022 release from Coty and the gang. He sent me a prototype and I immediately started toying and spraying with it. I was stunned and quite impressed with the way it reduced atomization at heights and really put the chemical up there where I needed it to go. I had no problem hitting 45+ feet on a static day with no wind.
Ben Wilson of Nashville Softwash Pros (a good buddy of mine and Inner Circle Six Figure Earner) invited me to come with him on a job he landed in the prestigious governors club in Brentwood Tn. I added a video of Ben using this tip on his machine to downstream chemicals up to 50ft. You can view it here.
The atomization is drastically reduced and the stream is "lazer like" as he put it, and no way he was hitting that high with his Jrod setup previously as it was producing a "fatter" stream with an atomization that was a bit fluffy to say the least.
Is this the best pressure washing tip for downstreaming chemicals?
I'd say so. I've used every chemical tip there is to be had currently in the industry and while they all have their merits I haven't found one that shoots this far and reduces atomization like the (TRT) Tall Reach Tip. I think the R&D that Coty at SESW has done here is time very well spent.
Can I use the Tall Reach Tip (Shooter Tip) With My 12v System as a soft washing nozzle?
Coty is already a step ahead here, as he has developed models for the 12v system as well. It's a smaller orifice that Coty has tested and finally has dialed it in to shoot like the lazer he had envisioned. It shoots incredibly well and will maximize the range your pump is capable of. We were noticing an extra 5ft of reach on top of what we were normally spraying with this tip.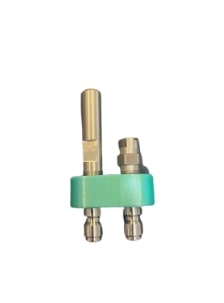 Can I use the Tall Reach Tip (Shooter Tip) With My Downstreaming System
Yes you can, grabbing the larger "Tall Reach Tip" as a shooter nozzle for pressure washing chemicals is what you would want to use with your downstream injector system (pressure washing soap dispenser). I personally used this Tall Reach Tip for this and it works like a dream, it's the one you see in the Ben Wilson video listed in this article.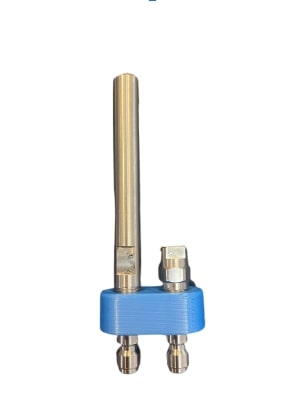 How Does This Shooter Tip Work?
With a 12v system, this tip has the right orifice size to give optimal stream and reach while not allowing a ton of atomization to occur. This takes alot of R&D because you dont want a stream so fat that range is reduced, but you also don't want it too tight that atomization occurs. With the longer model it can be used on a 24v or a downstream injector system. With the 24v, it works similar to the 12v just with more flow and a few thousandths of an inch difference in orifice size to keep the range but not allow too much of a mist to form. The downstream injector use with this Tall Reach Tip is similar in that it allows the pressure to be low enough at the injector so that it'll open and suck chemical but not too high as to create too much atomization at the tip. (A certain minute amount is expected.)
Pressure Washing Ladder Saving Tip Conclusion
The longer tip is the one you should use if you're downstreaming chemical and shooting it high. This tip is built for the 24v pump and downstreaming. If you're using a 12v the shorter of the two is the choice for you as the orifice size is perfect for a 12v flow. The "Tall Reach Tip" has that X Factor that you need to reach those heights and keep your stream tight.
This part is a critical piece to every washer's tool bag, and while none of the available choices are going to break the bank I personally think I'd order 2 of these to keep in the truck at all times.
If you are looking for a pressure washing company, then please call Nashville Clean Windows & Pressure Washing 615-669-8098 or complete our online request form.