How To Clean Concrete With Bleach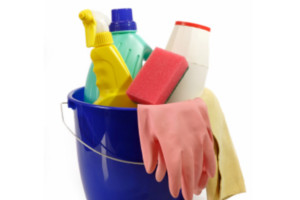 When you build your home, each part of the house needs a corresponding type of floorings depending on its function. When it comes to the basement, garages, driveways, and patios, one of the leading choices is the concrete floors. Compared to the other parts of the house, these areas are often exposed to dirt and germs since stains, spills, and scratches are definitely inevitable.
To keep your concrete flooring clean and spotless, a variety of cleansers and cleaning methods are readily available. One of the most common ways of cleaning concrete floorings is by using bleach. 
Before we go into the process, here are some background information about concrete floorings and the bleach as a cleaning agent. 
Why Choose Concrete?
It is a practical choice - Are you on a budget? Concrete floors can be a more economical choice for you. The cost of installing concrete floorings is much cheaper compared with other materials. Also, concrete ingredients or components are easily accessible making preparation and laying quicker and easier. In addition, concrete surfaces require minimum maintenance.
It is heavy-duty - When properly installed, concrete floors are more durable compared to their counterparts. Reinforcing it with steel can make concrete flooring susceptible to weight and pressures. This is why it is the prime choice for driveways, walkways, and garages.
It is versatile and flexible - Concrete surfaces can be designed and colored depending on your choice. Stamping patterns can be prepared for concrete to duplicate bricks, stones, and other stylish textures giving it an additional appeal.
The Disadvantages
It is a very hard surface - Concrete floors' sturdiness comes with a few drawbacks. Because of its solid surface, falling and tripping on it may cause injuries. The necessary precautions need to be done especially among children and the elderly. Also, items that may fall on its surface, especially fragile ones can be prone to damage. In addition, standing on concrete floors for a longer period can be tiring and uncomfortable.
It is cold - Since concrete surfaces do not retain heat well, it can feel colder especially during cold months. To resolve this, a floor heating system can be installed. Thick carpet and rugs can also be used.
It retains moisture - Since concrete floors are often laid directly over the soil, moisture can easily penetrate through it. This can cause damage to surface paints and allows molds and mildews to grow. However, this can be countered by using sealants properly on its surface.
Concrete is the leading choice for basements, patios, garages, and driveways. These areas are prone to dirt and residue since stains, spills, grease, soil, and even chemicals can mess it up. Molds, mildews, and moss should also be removed.  To maintain its original appeal, it should be kept clean and germ-free. With a wide array of cleaning solutions available, bleach can be a wise choice to clean your concrete floors.
Clean Concrete Floors With Bleach
As a gentler cleaner, bleach can't harm concrete's durable material. Aside from being an effective cleaner and stain remover, it also acts as a disinfectant to the concrete surface. 
Here's what you need:
Broom and dustpan
Liquid bleach
Water
Bucket or hose
Scrub brush
Here's How:
Make sure to clear the area that needs to be clean. Keep children and animals away and remove any objects such as plants or furniture to make cleaning easier. Make sure that the area is well ventilated as you perform the process since bleach releases fume that may cause sinus irritations.
Remove weeds or moss that have grown along the edges or between the cracks of your patio, walkways, or driveways. Sweep the concrete floor to remove dirt and other residues and pick it up using a dustpan.
Prepare the bleach mixture by combining bleach and water. Spray the bleach solution focusing on your target areas. For tougher dirt, you can dilute oxygen bleach with water to form a thick consistency and put it in the stained areas. Let it sit for about an hour.
You can scrub the areas using a stiff nylon-bristle brush.
Using a hose or a bucket, rinse the areas using plenty of water.
Some reminders:
Wear rubber gloves to protect your hands and your skin while doing the process.
 
Do not use a metallic brush. It can leave metal bits on the concrete that may stain and rust the areas.
Bleach can be harmful to plants. Remove flower beds and potted plants before doing the process. Grass on the edge of the concrete pavement may be damaged by the bleach. Always do the necessary precautions to avoid the problem.
Do not mix bleach with ammonia as it can create a toxic gas. Read the label of any product that you will mix with the bleach for chemical information.
Leave the shoes that you use outdoors. It may bring toxins inside your homes.
Although bleach is a milder cleansing agent, it can still cause harm when not properly handled. It is better to contact experts and specialists if you are not familiar with using bleach in cleaning. Also, tough and heavy stains on concrete can be thoroughly clean through pressure washing. This can effectively be done by experts and specialists.
When it comes to professional pressure washing, Nashville Clean Windows and Pressure Washing is your best partner. With years of experience, the company has been acclaimed as the best provider of pressure-washing services not only in Nashville but also in its surrounding areas.
Nashville Clean Windows and Pressure Washing is proud of its team of experts that can deal with the toughest dirt and stains while taking extra care of your properties. They also boast of the latest cleaning tools and equipment for a more satisfying result. 
Are you on a budget? Nashville Clean Windows and Pressure Washing offers affordable deals without sacrificing the quality of their work, thus, you are assured of outstanding services with excellent results without hurting your pocket.
Home cleaning can be a stressful job, especially for busy people. Relax and worry no more. For professional cleaning services, Nashville Clean Windows and Pressure Washing is always ready to assist you. 
If you are looking for concrete cleaning services, then please call Nashville Clean Windows & Pressure Washing 615-669-8098 or complete our online request form.