How To Get Rust Stains Out Of Concrete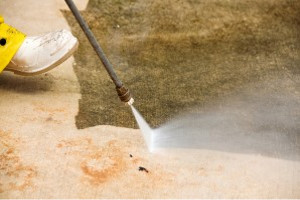 Concrete is the leading choice as floorings for garage, walkways, and driveways. It is known for its durability and the ability to withstand weight and pressures. Because concrete floors are often used in utility spaces, it is prone to dirt and residues, as well as scratches and stains. 
One of the most common stains that affect concrete floors is rust. It leaves an unsightly appearance that diminishes the value and appeal of your homes. But this eyesore can be removed or diminished with different techniques and methods. 
To begin with, here are some tips to avoid these stains.
How to prevent rust on concrete floors
Use a concrete sealer - A concrete sealer is easily accessible since it is available in any home-improvement store. When applied, it soaks into the concrete that will then protect it from stains. To apply this, wash the concrete first, making sure that you have removed any existing stains. Roll the sealant over the concrete and let it sit for forty-eight hours. It is advised to get your concrete flooring sealed every two or three years.
Use non-corroding steel bars - Concrete floorings can be reinforced using steel bars as support. Water gets into it causing rust stains within the concrete. When laying your concrete, it is better to choose non-corroding steel bars in your foundation.
 
Avoid placing metals directly on the concrete - When using a metal-bottomed or metal-legged furniture or garden accessories, it is better not to put it directly on the concrete floor, especially on areas that can get wet. If this is inevitable, you can put rubber pads to protect both the metal furniture and your concrete as well. You can also move steel-made items in areas that don't get wet. Apply sealer to avoid rusting on metal surfaces.
 
Check for leaks - Water and moisture cause rust. The concrete floor is known for its cool temperature that can cause moisture to condense during hot weather. Also, water during heavy rains and water leakage from broken faucet and pumps can also cause steel and metals to rust, thus staining your concrete floors. It is better to check your homes and water lines for any damage that may cause water leakage to lessen rust stain problems.
Ways to remove rust stains on concrete - From mild to tough rust stains on cement floors, here's what you can do: As a starter, sweep off the floor to remove any dirt or dust. It is also better to wash the target area first with soap and water. Let it air-dry before you continue.
Use lemon juice - Acid is an effective rust remover. Known to have a high concentration of citric acid, pure lemon juice can be a wise option. All you have to do is to spray or pour lemon juice on the stained area and let it sit for ten minutes. Scrub it using a nylon brush and rinse with water. You can repeat these procedures if it is not effective on the first try.
Use white vinegar - Another handy cleaning agent is white vinegar. Pour or spray it in the rusted area. Allow it to sit for several minutes and scrub it with a nylon brush. Finish off by washing it with some cold water. You can repeat the process for tougher stains. Note: Do not use metallic brushes. It may fall off and may cause more rust stains on your cement floor. It can also damage the top paste layer of the concrete.
 
Use commercial cleaners - If the gentler rust remover cannot do the job, you can switch to commercial brands. You can choose from a wide variety of brands available in the market. Since these products contain chemicals, it is better to follow precautionary measures for your safety. Wear gloves or goggles for protection. It is also advisable to wear outfits that do not expose much skin like pants and long-sleeved shirts for protection.
 
Use oxalic acid solution - Commercial cleaners that contain oxalic acid are often used to scrub sinks minus the scratches. It also removes rust stains. It is available in liquid or powder form. Powdered oxalic should be wet with water. Spray or sprinkle the cleaner on the target areas and let it sit for several minutes. Brush and wash off with water.
Use muriatic acid - Another commonly-known and widely available cleaning agent for concrete surfaces is muriatic acid. Carefully read the product label before using it and do the necessary precautions in the cleaning process. Wear gloves, goggles, and protective suits for safety. Be sure that the area is well-ventilated to avoid eye or sinus irritations.
 
Use TSP - Trisodium Phosphate or TSP is another effective rust-remover. Carefully prepare the solution by mixing half a cup of TSP with a half-gallon of water. Pour the solution in the stained area and leave it for fifteen minutes. Scrub the area and wash it with water afterward.  Just like with preparing other chemical solutions, do the necessary precautions for your safety.
If you are not familiar and confident enough with the preparation of the solution, as well as the application and the cleaning process, you might want to contact an expert cleaning service to do the job for you.  
Nashville Clean Windows and Pressure Washing is one of the top-recommended cleaning services in Nashville and its surrounding areas. With years of experience and dedication, the company is a credible name in the cleaning service industry. 
The company is proud of its latest gadgets and equipment to make pressure washing easier and effective, giving satisfactory results. It leaves no traces of unsightly appearance, removing all dirt, stains, and residues. While its pressure washing equipment is tough on stains, their team of professionals assures you that your property is properly taken care of. 
For professional cleaning service with superb results, Nashville Clean Windows and Pressure Washing is your dependable partner. Cast your cleaning problems to us and allow us to do the job we love. At Nashville Clean Windows and Pressure Washing, excellent service is always a guarantee.
If you are looking for professional rust removal, then please call Nashville Clean Windows & Pressure Washing 615-669-8098 or complete our online request form.