Why Pressure Washing Isn't a Suitable DIY Project for Homeowners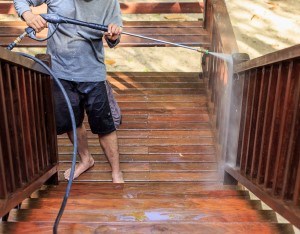 Imagine spring is finally here, and you notice that winter has taken a toll on the exterior of your home. It's looking a little rough and dirty around the edges, to say the least.
You know you need pressure washing, and you're faced with two choices: call in a pro or waste your weekend attempting to make this a do-it-yourself project. It's admirable that you want to invest some sweat equity and elbow grease into your home sweet home, but this isn't that type of job.
Contrary to popular misconception, taking care of your power washing is not the best idea. Although big-box home improvement retail chains would have you believing otherwise so they can sell or rent the equipment to you, we'd like to set the record straight.
Leave the Hard Work to the Trained Professionals
There's absolutely no shame in hiring a professional to take care of a job that's best suited for trained and experienced industry experts. However, if you're still not entirely convinced that pressure washing should be carried out by pros, consider this:
It's not that safe - For one thing, you're working with high-pressure, concentrated spray that can literally peel old paint off a surface. (It's 50 times more powerful than your garden hose!) Without some form of training and the right amount of supervised experience, it's not the type of task you should pick up as a beginner. It's not uncommon to experience personal injury or cause property damage, but that's not the type of thing they mention when you're pricing power washers at the store.
Did we mention it's not safe? - You'll also be maneuvering around on slippery surfaces, including climbing a ladder. Even industry pros can have accidents, but without any experience walking around on slick concrete, decking, or driveways, you're at a much higher risk of falling.
You're not going to get professional results - If you manage to make it through your first DIY pressure washing session without injuring your skin, eyes or taking a tumble off a damp ladder, congratulations. You may even avoid damaging surfaces, and that's a bonus. However, you're not likely to be satisfied with the outcome of the work you do. Beginners end up with streaks, large areas they've missed, or neglected nooks and crannies.
It doesn't save that much money - Once you factor in the cost of the equipment and your time, it's not that much more cost-effective to bypass hiring a pro. Spend the extra dough and let a power washing professional handle the job for you.
Nashville Clean Windows & Pressure Washing is here to exceed your expectations. Contact us now to schedule your Nashville pressure washing session.
If you are looking for pressure washing services in Nashville, then please call Nashville Clean Windows & Pressure Washing 615-669-8098 or complete our online request form.