7 Tips For Cleaning Gutters And Spring Cleaning Your Roof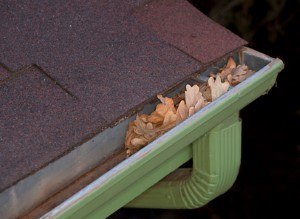 The roof on our house plays an important part in ensuring that we're safe and protected from the elements. Extreme weather conditions and fluctuating temperatures are things that help degrade the roof and this is very evident during the colder months of winter. Come spring, it's always recommended to do spring cleaning which includes inspecting the roof for any signs of damage. Below are some tips to do when you're conducting a roof spring inspection.
1. Always Be Safe
Roof gutters are always a tricky thing to clean since you'll have to do it at a considerable height which puts you at risk for falling and serious injury. The first thing to remember before you get up and start cleaning it should be to make sure that you're safe at all times. If you ever feel like you don't have the skills or the equipment to get the cleaning job done safely then you should call a professional to do the job for you. It's better to pay someone to do it than have you get up on the roof and put yourself at risk.
Part of the safety check before attempting to clean roof gutters would be to make sure you have the proper tools and equipment. Ensure that you have a good sturdy ladder with the right height. Remember that the ladder height should extend a couple of feet past the height of the roof and that it should be secured in place at the base and at the top. Also, make sure you're wearing the right gear, specifically wearing the right footwear that provides traction when you're walking on the roof.
2. Inspect Guttering And Downpipes
During the winter months, cold temperatures and snow can cause serious problems to your downpipes, gutters, and other drainages on the house. As part of your roof spring cleaning, make sure that you check these parts, checking to see if there's any damage to those parts. If there have been strong or excessive winds, it may result in gutters and downpipes becoming loose or detached due to joint and bracket damage.
Gutters can also get clogged up due to debris that's accumulated due to wind or rain. Loose shingles, leaves, and mosses can also be swept into gutters during bad conditions and be the reason it gets clogged up. Clogged gutters and downpipes can affect proper drainage on the roof and may even result in flooding and issues with moisture.
3. Check Vents And Chimneys
As part of your spring cleaning and roof inspection, don't forget to check around vents and chimneys for any signs of damage and disrepair as a result of winter weather. Extreme temperature changes and heavy storms can harm flashing and seals which might have shifted or have been damaged and lead to leaks.
Check vents and chimneys for signs of damage such as cracks or gaps on joints. You can go into your attic and check from inside if you see any light coming through which could mean gaps or cracks in the roof. Also, check on the wedges of roof windows and skylights for similar signs of damage.
4. Watch Out For Missing Or Broken Shingles
Storms, rain, extreme temperatures, and high winds will, over time, cause damage to shingles. Extreme weather can result in roof shingles coming loose or detaching entirely. Shingles are important in ensuring the roof is watertight so checking to see that shingles are still intact is extremely important when doing roof maintenance. They should be checked to see if they've become degraded, broken, or missing.
Broken or missing shingles will mean a point of entry for water to get into the roof structure and can lead to further decay. Such problems will mean costlier repairs when it's not addressed immediately. It's easy to spot cracks on asphalt shingles since they will appear darker or black compared to the rest. Loose or broken shingles can also lead to debris falling into rain gutters and be the cause of blockage which can lead to even more flooding or moisture problems.
5. Remove Moss From Roof
Moss growth on a roof is normal. It is when the growth goes unchecked that problems can occur. During spring cleaning, moss issues should be addressed before the summer heat speeds up their growth. Removing moss and lichen can also make it easier to inspect tiles for any signs of damage. Moss and lichen also hold moisture which can be detrimental to the overall structure and integrity of the roof.
During winter months and story weather conditions, debris from nearby trees can fall unto the roof. Branches and twigs could result in damage to flashing and seals as well as block gutters leading to overflowing water and flooding issues.
See our how to clean roof shingles article here
6. Repair Broken And Missing Tiles
When roof tiles are worn down, missing, or broken, it can result in leaks and moisture damage to the inner structure of the roof which should be kept dry at all times. During spring cleaning, it is the best time to check to see if there are missing or broken tiles and immediately repair and replace them.
Most of the time, visual inspection from the ground is enough to determine if there are missing tiles. You can even use a camera or a spy gear to take pictures of your roof and zooming in on photos to see if there are broken or missing tiles. But to assess them fully, you might need to get up on the roof and check them up close. Repairing will also mean getting up on the roof.
7. Visual Inspection
If you want to give the entire home a good sprucing up during spring, then use the opportunity to check the roofing structure from inside which might reveal lingering problems related to the roof. You can go to the attic to see if there are any signs of leaks developing. As mentioned previously, check to see for any light coming from the roof which might indicate gaps or cracks on the roof. Also, inspect eaves for any signs of staining which might mean dampness.
If you are looking for gutter cleaning in Nashville, then please call Nashville Clean Windows & Pressure Washing 615-669-8098 or complete our online request form.