TOP 3 Benefits Of SoftWashing Your Roof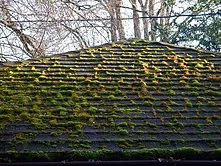 Soft washing means applying cleansers at a low pressure to your roof and afterward carefully rinsing away the contaminants with clean water. Unlike power washing, soft washing causes less damage to your home and helps it remain clean for a longer period of time. There's no need to remove any screens, and there's less danger of damaging windows and seals around the windows with this method.
Since your home is one of your greatest financial investments, taking care of it should be a major priority. And an important component of your home to care for is the roof, which you can keep in tip-top condition with a soft washing.
Black streaks, fire moss, and bacteria can make your roof look bad and even shorten its lifespan. Fire moss (pictured below), when allowed to run wild on your roof, will lift shingles and allow the weather to infiltrate the seal and shingles, leading to water damage and necessitating a roof repair over time.
To safely remove these harmful growths without damaging your roof, get a soft washing. While pressure washing can harm your roof and prompt costly repairs, soft washing is a safe, biodegradable option for removing harmful growths.
The Main Benefits Of Soft Washing your roof:
The Main Benefits Of Soft Washing your roof:
If you want your roof to look beautiful, get it a soft washing. After some time, bacteria and algae can grow on your roof. Soft washing, applying an eco-friendly biodegradable treatment, will remove these organisms as well as any ugly stains they cause, thus restoring your home to its previous beauty.
2. Money Savings
Dirty rooftops tend to be darker, so they draw in more sunlight than clean roofs do, leading to higher electric bills. A rooftop that has been soft washed will lower your cooling costs -- and at a great price. Some homeowners have replaced an entire roof, thinking the moss ruined it, when a soft washing could have done the trick at a fraction of the cost.
3. Broadened Lifespan
Algae feed on the limestone deposits in your shingles, making them brittle and unable to reflect UV rays properly and causing premature degradation. This premature degradation can diminish your roof's lifespan by up to 50 percent. Soft washing, though, not only cleans your roof but also preserves and broadens its lifespan.
If you notice that your roof is being overtaken by harmful roof algae and you live in the Nashville, Brentwood, Franklin, Belle Meade, or Hendersonville area, give us a call. We are experts in this type of treatment for your roof.
If you are looking for a pressure washing company, then please call Nashville Clean Windows & Pressure Washing 615-669-8098 or complete our online request form.