The Best Ashland City Roof Cleaning & Pressure Washing Company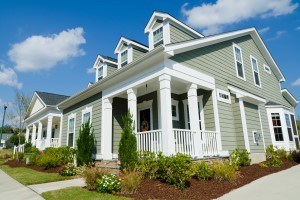 Nashville Clean Windows & Pressure Washing is here to offer you expert service in Ashland City. Our local pressure washing company has quickly become the reliable source for professional roof cleaning, window cleaning, house washing, exterior cleaning, and commercial exterior cleaning.
We love helping our customers with our pressure washing services in Ashland City! It's truly rewarding when we know we've done a good job that satisfies even the most persnickety client. If you've noticed your roof getting dark and stained or need any other type of exterior cleaning, call our Ashland City pressure washing company today.
Our complete range of services is always available. We offer free quotes at competitive rates, so don't hesitate to call us!
Softwash Roof Cleaning
Treating your roof gently during the roof cleaning process is highly important to us. Forceful pressure washing damages roof shingles, so we always use a softwash roof cleaning method instead.
This is actually the most effective way to get stains off your roof because the cleansing formula lifts stains from deep within the shingles. Plus, the solution deters new algae growth for many months. It's also the safest and most effective way to clean metal roofs, flat roofs, slate roofs, and tile roofs.
Exterior Window Cleaning
Cleaning the inside of windows is hard enough, especially when there's so many. Exterior window cleaning is a big chore that you may want to leave up to a professional.
Here in the Ashland City area, you can always get help from our window cleaning professionals. We provide window cleaning service to both residential and commercial clients. Let us take care of this chore for you today!
Pressure Washing
Is your driveway dirty and stained? Does your deck need cleaning and refinishing? Has your commercial property in Ashland City been looking run down lately?
Our local pressure washing company offers a complete range of exterior surface cleaning to make your property look amazing. All of our pressure washing services can be customized for your unique needs. We are just as happy to clean your small deck as we are to take on the big pressure washing jobs!
If you are looking for a pressure washing company in the Ashland City area, then please call 615-669-8098 or complete our online request form.