Pressure Washing Experts in the Franklin Area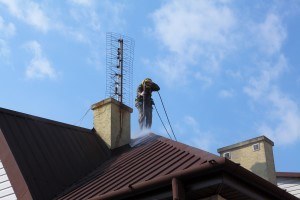 Your home is the most important investment you'll make, and you need to maintain this investment as best you can. This means keeping your home as clean and as free from harm as can be.
And a quick way to do this is to call Nashville Clean Windows and Pressure Washing. We'll get your home looking great from top to bottom with our roof cleaning and pressure washing services that we offer at a great price.
ROOF CLEANING IN FRANKLIN, TN
Your roof is one of the most important components of your home. Unfortunately, over time, your roof can become infested with algae and other unsightly growths that can damage its functionality and limit its lifespan.
To ensure the best functionality, longest lifespan, and best attractiveness for your roof, call us for a soft wash roof cleaning. With a soft washing, we'll thoroughly remove all unhealthy and unsightly issues from your roof without causing any damage whatsoever!
PRESSURE WASHING IN FRANKLIN, TN
Your home's driveway presents one of the first impressions anyone will have of it, so you need to ensure that your driveway always looks great. Unfortunately, doing this can be hard since oil, dirt, and all else can define your driveway through the years.
If your driveway is stained and unable to make anything but the worst impression of your home, call us for a pressure washing. With a pressure washing, we'll get your concrete looking beautiful and new once more, helping to retain your home's beauty and value!
FRANKLIN'S EXPERIENCED PRESSURE-WASHING PRO
A thorough education is important for your kids, and here in Franklin, your kids can enjoy the best, most thorough education out there. The city offers many great public and private schools as well as a number of colleges and universities such as Belmont University (Williamson County Campus).
Just as much, a beautiful, sturdy home is important for your kids and you. And to enjoy the most beautiful and sturdiest home, call Nashville Clean Windows and Pressure Washing, your local pressure washing company, for our roof cleaning and pressure washing services!
Our Franklin Pressure Washing Projects
If you are looking for a pressure washing company in the Franklin area, then please call 615-669-8098 or complete our online request form.