Commercial Pressure Washing In Nashville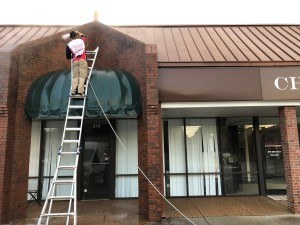 This customer had black algae growing on the inset areas above their awnings in their plaza. We treated the algae multiple times to loosen it up and get it ready for removal, then we pressure cleaned it with hot water. We also Pressure cleaned the algae and lichen off of the awnings and rinsed the aggregate concrete to remove any dirt and leaves.
Commercial Pressure Washing Gallery
If you are looking for Commercial Pressure Washing or need to request service, then please call 615-669-8098 or complete our online request form.