4 Ways To Do Exterior Window Cleaning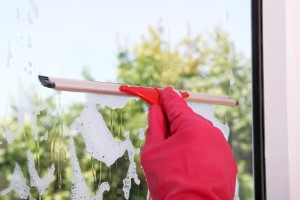 Keeping the windows clean is a good habit. For better results, aside from cleaning the inside of the window, the window exterior also needs a good wash. You cannot enjoy natural light inside your homes or businesses during the day if the windows are covered with dirt, dust, water spots, or bird droppings. The beautiful view of the city, the lush greeneries, or the blue skies will not be fully appreciated behind filthy windows. Make your windows blemish-free and streak-free with and plan your next window cleaning schedule.
The Benefits Of Clean Windows
Regular window cleaning is necessary since it has a lot of benefits. Here are some reasons why.
It enhances curb appeal - Whether a home, a store, or an office, clean windows boost the overall look of a building. How your windows look will largely affect how people view your building from the outside. Clean windows give a positive impression to guests or customers.
It allows natural light to come in - Looking from the inside, clean windows make you enjoy the bright days, leading to a better mood and increased productivity within the day. Natural light can make open spaces and rooms more lively, inviting, and spacious. On the other hand, dark, dingy windows make a room look gloomy, making one feels tired, sleepy, and unproductive. One more thing is that it is more energy-efficient as you do not need to turn on the lights during the day.
It is healthy - Dust, pollen, and other allergens are present in dirty windows and window sills that can take a toll on the health of your family or your customers and employees. It can lead to sneezing, coughing, irritation, runny nose, itchiness, headache, and fatigue. Clean windows help to improve air quality for better respiratory health.
It extends the life of the window - Accumulated dirt is unsightly. Moreso, unwanted deposits like lime and molds can cause damage to windows and window sills. Dirty window glasses are said to be more prone to cracking. One precaution to avoid these problems is to keep windows clean. Window cleaning can also help detect minor and early damages, like rotting on wood, cracks on glasses, or loose casings. This allows you to do repairs early on and avoid larger repair bills in the future. You can also assess which part of the window needs replacement. Are there windows that are stuck and difficult to open? Are there faulty locks? You can also address these problems when detected early.
Keep insects at bay - Unmaintained windows can be attractive to insects like wasps, spiders, and ladybugs, eyeing them as their habitat and a safe place to breed. This can be unsightly. Moreso, some insects, when became agitated can be very dangerous and harm you.
How To Clean Window Exterior
Compared to the inside of the window, cleaning its exterior can be a challenge, especially if you are living on higher floors.
Today, different window cleaning solutions are available in the market with a promise of a streak-free finish. But there are some who still prefer the all-time favorite cleaning solution made by mixing white vinegar and water. Liquid soap diluted in water is also another option. But how can we apply them to the window exterior? Here are some gadgets that people use in cleaning the outside of their windows.
Use a magnetic window cleaner - The magnetic window cleaner cleans both inside and outside of a window with microfiber cleaning cloths or sponge soak in a cleaning product or solution of your choice. It has a powerful magnet that locks two cleaning sides together through glass so that when you move one side, the other side will move too. You have to slide the magnetic cleaner to clean the entire glass - both the inside and the outside. Turning the handle will then allow you to use the squeegee for a streak-free finish. You might want to use step ladders to reach high areas when cleaning. Do the necessary precautions to avoid falls.
A mop can do the trick - Start by rinsing off dirt in the window with the use of a hose. Dip a microfiber mop or a microfiber cloth attached to a pole in the cleaning solution of your choice. Use it to go over the surface. Rinse thoroughly with a water hose. For areas that are still hard to reach, you can use a ladder. Do the necessary precautions when using it. Be sure that it is strong enough to carry your weight and prop it on a solid, level surface. Lock or block doors that may open towards the ladder and may lead to accidents. Check for broken steps, loose or damaged rungs, and braces.
Opt for a u-shape telescopic pole - For exterior window cleaning, this is perfect when you have sliding windows. It allows you to clean the outside of your window as you maneuver the pole while you are inside. The handle also extends allowing you to clean even hard-to-reach areas. The product is available in the market and often comes with microfiber cloths and a squeegee.
Hire a professional window cleaning service - It is undeniable that exterior window cleaning is dangerous especially on higher floors. Plus, the job can be very exhausting given a large amount of work involved. Choosing a professional window cleaning service like Nashville Clean Windows and Pressure Washing to do the job comes with a lot of benefits. First, they have the right equipment and the safety gear for the job, making the cleaning process safe and fast. They also understand how delicate windows' surfaces are so they use a soft washing technique to clean them with the utmost care. They also shun away from using products and tools that can be harmful to the windows.
Cleaning the window itself is not enough. The pros also offer window cleaning-related services like cleaning window screens and window sills. They also eliminate hard water stains for a thoroughly clean and blemish-free finish.
Window cleaning is always a two-way process to achieve better results. You need to clean the inside, and you need to exert effort to clean the outside, too. For residential and commercial window cleaning needs in Nashville and nearby areas, Nashville Clean Windows and Pressure Washing is always happy to serve you.
If you are looking for window cleaning in Nashville, then please call Nashville Clean Windows & Pressure Washing 615-669-8098 or complete our online request form.