5 Common Types Of Driveways And How To Clean Them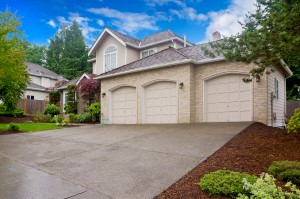 A driveway is an essential part of any residential or commercial building. It serves as a passage from a public way to a building's entry points. A driveway should bring a positive vibe and a welcoming atmosphere to guests. For these reasons, the driveway, whether residential or commercial, needs maintenance to keep it clean and presentable.
It is a reality that driveways are exposed to natural elements all year round. Dirt and stains can make it dingy and unpresentable. As much as we exert effort to make other parts of the house clean, it should be the same as the driveway.
The Importance of a Clean Driveway
It improves a building's curb appeal.
It increases property value.
It prevents costly repairs in the future.
It delays the growth of weeds, thus requiring lesser maintenance.
It promotes safety and sanitation.
It creates a positive mood.
Businesswise, it increases foot traffic that can lead to more sales.
Different Types of Driveways
Concrete Driveways - Concrete is the most common type of material used in driveways. First, concrete driveways are durable. It can withstand weight, pressures, and scratches. A concrete driveway is also versatile. It can complement any type of buildings from antique, rustic, to modern and contemporary. It is also more economical compared to other surface materials and is low-maintenance.
However, since concrete is light-colored, dirt and stains can be very visible on them. It is also given that driveways are exposed to different dirt and stains like automobile-related leaks and spills, paint, and rust stains. The most common way to clean concrete driveway is by using ordinary dishwashing detergent diluted in water. Pour it over the stain or dirt, brush it with a stiff nylon brush and rinse thoroughly. You can use different cleaners like muriatic acid or household bleach. Do the necessary precautions and use personal protective equipment like goggles, face masks, and gloves for safety.
Asphalt Driveways - Another common choice as a material for driveway is asphalt. Its vibrant black appearance makes it more presentable and clean. Unlike the concrete counterpart, dirt and stains are not that visible on asphalt surfaces. Installation is not only easy, but it is also even more affordable as compared to other surface materials.
However, maintenance should be done to keep it in good condition. You can use an asphalt sealer for additional protection. Cracks and holes should be patched up immediately to avoid further damage. Also, when cleaning the asphalt driveway, always check the ingredients of the cleaner that you are going to use as some of them can cause damage to the surface.
Brick Driveways - Although not as famous as concrete and asphalt as surface materials for driveways, many opt for brick driveways for their aesthetic value. It gives a classic appeal that may complement a classic-looking house. It is not just interesting, it can also be very unique. Installation of brick driveways should be done properly and with care. If not, it is prone to damage. It is better to sweep or brush off the surface of any dirt and dust first before proceeding to the main cleaning process. A part of oxygenated bleach dissolved in three parts of water can be an effective cleaning solution. Too much pressure, strong chemicals, or hard-bristled brush should not be used in cleaning brick driveway as it may bring more damages.
Cobblestone Driveways - Another way to give a driveway a classic look is by using cobblestones. It gives an appeal that is almost similar to the brick counterpart. However, cobblestones are more expensive than bricks. Dirt and grime can nestle on the pores of the stone, thus, it needs regular maintenance. Cleaning is easy as a simple household cleaner diluted in water can do. You can use a stiff brush to scrub the dirt and finish it with a good rinse using a garden hose. Pressure washing can also be done to reach deep-seated dirt.
Gravel Driveways - Gravel driveways have an increased appeal for people living in country settings. It can be installed easily using a brick or wood as a barrier before pouring the gravel into the area. However, gravel is not as durable compared to the materials mentioned above. Since it is a loose substance, you lose a lot over time, requiring you to replace it often. Regular raking is also enough for its maintenance. However, because of the barrier, gravel driveway can be flooded.
Similar to gravel driveways that use loose materials are dirt driveways, crushed stone, and basalt driveways.
How to Clean Your Driveway
Always test a treatment first. Not all driveways are the same. A cleaning agent or chemical that is effective on one surface can be damaging to others. Because of this, it is advised to try a cleaning agent in a hardly visible area first before applying it to the whole surface.
Brush off excess dirt first. You might end up just spreading up the dirt on the entire surface when you skip this procedure.
Remove stains. Oil and grease stains, rust, molds, mildew need to be removed using appropriate cleaning solutions.
Scrub and wash. Depending on the type of surface, you can choose between a soft-bristled and a stiff-bristled brush. You can give extra attention to tough stains and dirt. Finish it off by rinsing it with water.
Be sure that the area is clear and plant life is protected to avoid accidents or any damage.
Pressure Washing Professionals
You might have heard about pressure washing as an effective way to make driveway cleaning easier and effective. Although this is true, pressure washing is not a do-it-yourself job. When erroneously handled, it can cause damage to properties, or worst, injuries. Also, not all surfaces need to be pressure washed.
We at Nashville Clean Windows and Pressure Washing boast of a team of professionals to assist you with any driveway cleaning jobs. No driveway is big or small, and no dirt is tough. Just leave the job to us and we can assure you of a fresh, squeaky clean driveway after the job. We also do other outdoor cleaning services in Nashville and surrounding areas.
If you are looking for driveway cleaning, then please call Nashville Clean Windows & Pressure Washing 615-669-8098 or complete our online request form.